Summer Toboggan, Sopron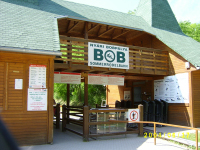 City: Sopron
Address: Sopron, Bécsi domb
Tel.: +36 20 4333 505




Tobogganing is a hands-on activity. Alone or with a companion, the riders decide the speed and quality of the ride and therefore return again and again, unaffected by short-lived fads. Tobogganing is a great entertainment for families, groups, young people and the old also. The children are waited with swing, slides and a kid-excavator. In addition our guests' comfort toboggan buffet takes after. Opening Hours from 1 April until 31 October every day between 10-18 o'clock (in March and November only holiday and public holiday!). It's a gorgeous recreation for every generations! Summer Toboggan Run in Sopron netx to the highway 84, it be found in front of the border of Klingelbach whit 5 km.




---



---
www.ohb.hu | Contact us

E-mail:


Tel.: +36 1 900 9071
Fax: +36 1 900 9079

All rights reserved.