Trófea Grill Restaurant Újbuda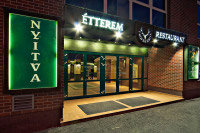 City: Budapest
Address: H-1117 Budapest, Hauszmann Alajos és Szerémi út sarok

The biggest Trófea Grill Restaurant in Budapest is now opened in the XIth district (XI. kerület) at the Buda bridgehead of Lágymányosi bridge. We set up a fabulous buffet-meal for a fixed amount of money, all you can eat offer among 100 different kinds of meal and drink.

Take advantage of the buffet-meal system and choose according to your own taste among the delicacies. Among the wide range of choices you will find cold and warm entrées, main dishes and desserts. The fans of the traditional Hungarian cuisine will find their favourites courses such as the fans of the bio-reform cuisine and the vegetarians. As part of the buffet-meal, you can choose from fresh raw slices of meat and vegetables in 12 different kinds of marinades which are then prepared by our chefs in the entertainment kitchen in front of your tables.

For children up to 150 cm we provide 50 % reduction off the price.

Please note that prices include the following beverages: dry and sweet champagne, wine, beer from the tap, non-alcoholic bevarages with and without gas, mineral water and coffee.







---
















---
www.ohb.hu | Budapest restaurants |

E-mail:


Tel.: +36 1 900 9071
Fax: +36 1 900 9079

All rights reserved.