Spoon Cafe & Lounge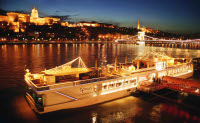 City: Budapest
Address: H-1052 Budapest

In the heart of Budapest, at the foot of the Chain Bridge stations one of the most interesting modern establishment of the city. Spoon Cafe & Lounge is a75 meter long three-decker docked boat with a unique interior design. It is beloved by many foreigners living in Hungary and by those locals who are looking for quality entertainment in Budapest. Two restaurants, a huge panoramic open terrace, convertible winter garden, 5 bars and an underwater Oriental bar guarantees comfort and relaxation which is hard to find nowadays anywhere else in Budapest nor even in Europe.

The boat is docked right in front of Hotel Inter-Continental Budapest.







---








---
www.ohb.hu | Budapest restaurants |

E-mail:


Tel.: +36 1 900 9071
Fax: +36 1 900 9079

All rights reserved.