Robinson Restaurant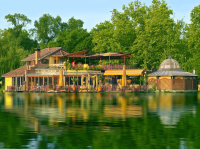 City: Budapest
Address: H-1146 Budapest, Városligeti tó (City Park Lake)

Robinson Restaurant is a unique attraction in Europe in the heart of the capital of Hungary, with its own island on the City Park-lake, near Heroes' Square, Museum of Applied Arts, Amusement Park, the Zoo, Budapest Metropolitan Circus and the Art Gallery.

The Mediterranean milieu, family-like atmosphere with live Latin guitar music in the evening awaits all guests. In the summer, there is a beautiful view from the open air terrace of the lake with its fountain. In the wintertime, the fireplace ensures the special surroundings for the culinary delicacy.

During the wintertime, the capacity of the restaurant is 80 persons, while there are a 100 more seats in the summer when the terrace is open. It is an ideal place for both business lunches and candlelit dinners. Events are organized on demand.







---







---
www.ohb.hu | Budapest restaurants |

E-mail:


Tel.: +36 1 900 9071
Fax: +36 1 900 9079

All rights reserved.