Remiz Restaurant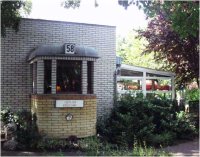 City: Budapest
Address: H-1021 Budapest, Budakeszi út 5.

The Remiz Restaurant is one of the most popular "art pubs" on the Buda side of the city. Hungarian and international dishes on the menu, quality drinks, great hospitality and live music in the evening every day.








---





---
www.ohb.hu | Budapest restaurants |

E-mail:


Tel.: +36 1 900 9071
Fax: +36 1 900 9079

All rights reserved.