Onyx Restaurant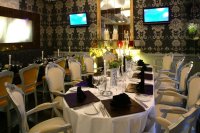 City: Budapest
Address: H-1051 Budapest Vörösmarty tér 7-8.

The youthfully classic restaurant of the Gerbeaud House is opened more than one year ago and waiting for it's guests with a special atmosphere and gourmet dishes. Our wine selection was complied by our sommelier with the contribution of the best Hungarian winemakers, includes the best Hungarian wines as well as best foreign wines and Champagnes. The enomatic wine storage system is one of the specialties of our restaurant. This system allows us to store and serve more wines by the glass.

The real exciting thing is the menu. Not only the harmonious youthful and modern interior of Zoltán Varró is unique, but we follow the verve and courage in the selection of the kitchen as well with our young cook team. The leader of the kitchen is a lady - Executive Chef Szabina Szulló is one of our four Chaîne des Rôtisseurs contest winners. The "Tradition and Evolution" chef championship in February 2008, which was similar to the world famous Bocuse d'Or championship. Tamás Széll the sous chef of Onyx restaurant got the best appreciation. Our main goal would be the Michelin Star. We are on the way to reach our goal - after a half year of running, our restaurant is among the top 12 restaurants of Budapest in the rating of the Hungarian "Restaurant and Wine Guide 2008".







---








---
www.ohb.hu | Budapest restaurants |

E-mail:


Tel.: +36 1 900 9071
Fax: +36 1 900 9079

All rights reserved.