Café Miró Castle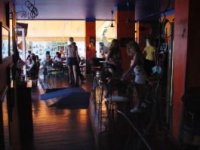 City: Budapest
Address: H-1014 Budapest, Úri utca 30.

A café with a unique atmosphere, the first in our chain, in the castle district area.

We are proud of the hundreds of regular-guest cards we have handed out since the opening ceremony. These cards entitle the owner to a 20% discount off the regular rates.

The structure and interior of the café is true to Joan Miró and his unique surrealistic fantasy.

We have an open terrace during the spring and summer months.

Since our opening, we have held several business and private events, and we are open to all requests.

We are cordially inviting you to visit us on any day of the year between 9 a.m. and 12 p.m.

Open: 9 a.m. - 12 p.m.







---


---
www.ohb.hu | Budapest restaurants |

E-mail:


Tel.: +36 1 900 9071
Fax: +36 1 900 9079

All rights reserved.