Miró Fashion Café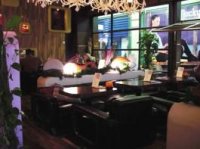 City: Budapest
Address: H-1069 Budapest, Váci út 1-3.

Fashion Café is a little different from the usual Budapest cafés due to its notion.

From the sunshades covered tables on the terrace, you can watch the masses roll by the shops, cinemas and ATMs, while the interior offers a more calming yet vivid atmosphere with the gallery.

Some discover Miró, the Spanish painter, in the spirit of the place, while others wish to discover the latest trends in the spectecular fashion shows, watching the graduates from one of the local model schools walk along the catwalk. The walls are painted dark red, while the wrought iron elements and the large LCD Tv on the wall with non-stop Fashion TV create a modern surrounding. On Wednesdays and Fridays, a prominent DJ provides great entertainment from the freshest hits.

We offer great cafés and St. James teas.

Open every day of the year, from 10:00 a.m. to 12 p.m.







---


---
www.ohb.hu | Budapest restaurants |

E-mail:


Tel.: +36 1 900 9071
Fax: +36 1 900 9079

All rights reserved.