Gerbeaud Beer Hall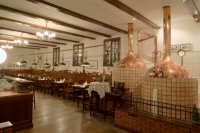 City: Budapest
Address: H-1051 Budapest Vörösmarty tér 7-8.

From the staircase on the Dorottya Street side of the Cafe, we enter the historical arched cellars of the Gerbeaud Pub. The Pub's rustic-aristocratic atmosphere provides just the right setting for building relationships whether during a quick business lunch, a pleasant, relaxed dinner, or an after-work drink. With fresh, sparkling, foamy Gerbeaud Pilsner beer, tasty snacks prepared by Gerbeaud's own butcher, and traditional Hungarian home-style cooking, a meal at the Pub is truly an experience for everyone.

The Gerbeaud Pub is excellently suited for tour groups, company events, and family celebrations. The layout and arrangement of the various rooms provide ample seating for groups ranging from 25 to 220 people.







---




---
www.ohb.hu | Budapest restaurants |

E-mail:


Tel.: +36 1 900 9071
Fax: +36 1 900 9079

All rights reserved.