Beckett's Irish Bar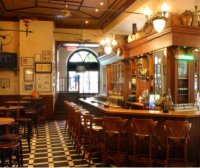 City: Budapest
Address: H-1055 Budapest, Bajcsy-Zsilinszky út 72.

Becketts has been the original Irish experience in downtown Budapest since its opening in 1994. You'll think you are in Ireland the moment you step inside the doors. For being so authentic, General Manager Declan O'Callaghan, a true Irishman, should take credits. He says the secret lies in being friendly and chatty, which is what Irish people do the best. O'Callaghan's pub has a fun atmosphere, and is a place where all could feel welcome. Don't know anyone there? That's okay. Go as a stranger and leave as a friend. There is live music once a week, and regular entertainment of seven big screen televisions to follow the world's biggest sport events. To warm up, order a tall pint of Guiness. Becketts has a fully stocked bar with a wide selection on draught beers, but also offers an extensive list of wines, whiskeys and gins. Do not leave without trying the pub's cuisine and always remember to ask for the season's offer. The lunch and dinner menus include both international and traditional cuisine. For the main course, we recommend fish and chips. The traditional dish of huge slieces of potato and fresh, fluffy codfish is served with chopped pickled gherkin in tartar sauce, but you can always choose green peas instead. Best in town! Other favorites are the bangers and mash with onion gravy and traditional beef and buiness pie. In case you'd fancy a more international dish, try the Becketts' home made bacon and cheeseburger, the spicy Jamaican jerk chicken or some of the Beckett's fresh, crunchy salads. For a sweet ending, the chocolate soufflé is something to die for. The heavenly dessert comes with vanilla ice cream, toasted almond and whipped cream. Look no further than Becketts Pub to stop in for a pint after a hard day's work, bring in your friends to watch a football game, to celebrate a birthday, or just celebrate life.







---
---
www.ohb.hu | Budapest restaurants |

E-mail:


Tel.: +36 1 900 9071
Fax: +36 1 900 9079

All rights reserved.