Andante Borpatika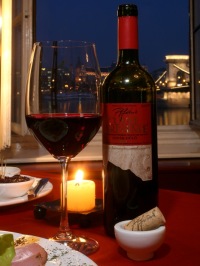 City: Budapest
Address: H-1011 Budapest, Bem rakpart 2.

An elegant place with a friendly atmosphere in a heritage building in the very heart of Budapest .Carefully selected brands and vintages represnting Hungary's best. Over 100 wines, the city's most extensiveby-the-glass choices. Andante-exclusive wines, rarities. A breath-taking view of the Danube and the Hungarian capital. Regular wine tastings presented by the actual producers. An ideal location for private and business meeting.

Opening hours:from Tues to Sat from 4 pm until midnight. Closed on Sundays.









---








---
www.ohb.hu | Budapest restaurants |

E-mail:


Tel.: +36 1 900 9071
Fax: +36 1 900 9079

All rights reserved.