Legenda - Sightseeing by boat
Cruising, sightseeing by boat in Budapest, programs on the Dabune
Our offer: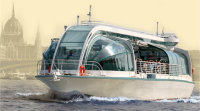 An opportunity to witness as the legends of Budapest come alive during a boat cruise of an hour. A programme in 30 languages plus a film about the most famous monuments of the city. Two drinks are included in the price: a glass of champagne and a choice of beer, wine and soft drinks. We have built our new panorama ship upon our 15 year experience and feedback from our guests that made its first cruise in the summer of 2004. During the trip our visitors can enjoy full comfort and the 360-degree panorama offered by the glass-covered deck which can be removed in case of good weather. Our state-of-the-art technical equipment offers you the possibility to listen to our computer controlled programs in 30 languages on the panorama ship.

Daytime Sightseeing - Duna Bella: A pleasant hour on board of the Duna Bella boat, sailing between the splendid vision of Buda and Pest & an hour walk on Margaret Island. A sparkling cocktail and a choice of wine, beer or soft drink.

Evening Sightseeing - Danube Legend: Sound, view and vision, Budapest sightseeing show on the river Danube. You are invited for an hour.s showboat sightseeing cruise at night on the Danube Legend boat. Glass in hand you will be able to experience how the legends of Budapest come alive. Look behind the walls of the Royal Palace, the Parliament, the bridges, and other splendid sights all bathed in light.

Candlelit Dinner Cruise: Enjoy your meal and let the scenery of evening Budapest delight you. A four-course candlelit dinner and live music - all on board of our brand new "bubble boat". Every Wednesday, Thursday, Friday at 19:45. Boarding from 19.30. Duration 2h30m

Rates - Duna Bella:
Adult: 4500 HUF

Rates - Danube Legend:
Adult: 6300 HUF

Candlelit Dinner Cruise:
Exclusive Dinner: 23900 HUF
---







---

www.ohb.hu | Contact us

E-mail:


Tel.: +36 1 900 9071
Fax: +36 1 900 9079

All rights reserved.